A few weeks ago, we talked about long takes and Timothy mentioned wanting to learn how to do them. This week, we have the perfect guest to tell us everything we need to know about long takes, Jim Cummings, the writer/director of "Thunder Road" the 12-minute, single-long-take film that won the Sundance Grand Jury Prize this year.
Listen now or visit iTunes to download it to your device.
__________________
Meet Jim Cummings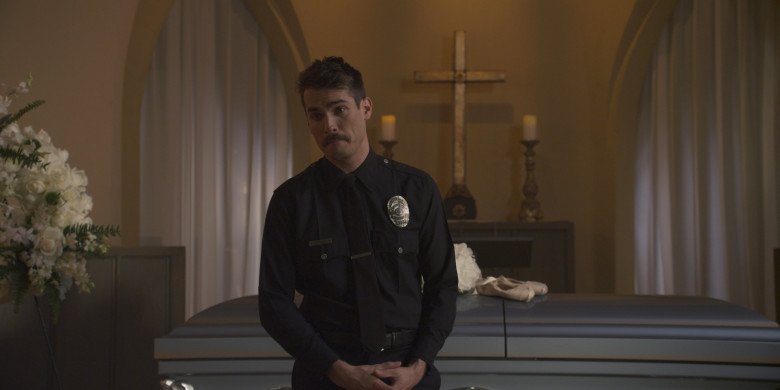 Jim wrote, directed and stars in a short film called "Thunder Road" you guys may have seen. It won Grand Jury Prize for Best Short Film at Sundance this year.
Jim has 10 years of production experience. While creating his short film Thunder Road, he was working as a line producer on branded productions at College Humor and used that time to write the film on his long commutes. After completing this film, doors opened to other avenues and now Jim helps other filmmakers get their projects done. In the last year he produced 5 feature films, including associate producer on Krisha which won the Grand Jury prize at SXSW. He's also written 7 other short films that were shot over the last few months.
In short, Jim is making us all look bad.
So Jim won Sundance. Is he struggling?
Jim doesn't call it a struggle, but he calls it "hard." Sundance has opened doors but at the same time he's not getting paid for these new opportunities. Yet. But he theorizes that commercial work is a good way to keep the money coming in.
Alrik talks about struggling to keep his mind focused on his first feature film. Jim's advice to first time feature filmmakers is to go out and make something you can do for free with your friends because your first film will not be good.
We tackle the existential question: what makes it all worth it? Why do we do what we do? You make a film, you release it, it's well received, maybe it even wins Sundance. So what? What's the point?
"Thunder Road" The Long-Take Short That Won Sundance
Topic of the week – Long Takes
Long takes have been incredibly popular forever but seem to have become even more popular in the last couple years. Jim's movie, Thunder Road is one single 12-minute take.
How do you plan for a shot like this? Do you start with performance? Do you start with camera?
Why did you decide to make Thunder Road as a single long take?
Jim tells the genesis story of Thunder Road and how it all came together.
When is a long take justified?
When choreographing a long take, is it better to start with actors or camera first?
How do you choreograph the acting and camera in a way to make sure the performance still feels fresh by the time you start shooting?
You obviously rehearsed the most on your own, how many rehearsals did you do with the cast/crew?
Imagine you are working with actors and not acting yourself, how do you give actors marks and still have a performance feel spontaneous and natural?
How did you go about lighting the scene, did you have any lighting adjustments happening live behind the scenes during the take?
Share Corner
Jim recommends you check out the 'The Show About The Show' on YouTube
Alrik recommends the nerd core rapper MegaRan: http://megaran.com/
And Timothy shares a few new reviews from iTunes and Stitcher
Get In Touch With Jim
Watch Thunder Road on Vimeo:  https://vimeo.com/174957219
And find him on Twitter: https://twitter.com/jimmycthatsme
Contact Us