We celebrate our two-year anniversary by inviting listeners of the show to dial in and talk about what's on their mind. This week we talk to Lindsay Serrano, Jeff Palmer and John Muth for conversations about low-budget filmmaking, film school and giving/receiving feedback.
Listen to this episode now or visit iTunes to download it to your device.
________________
Making Movies is HARD! podcast started in June of 2015. Over the last few weeks, Timothy reached out to some of the first listeners of the show and asked them to come on the podcast to talk about a subject of their choosing.
Lindsay Serrano
First up is Lindsay Serrano (aka @MassGravette) who has been listening since episode 6
Lindsay is a producer in New York who is produced several films under her company banner Mass Grave Pictures
Check out her movies:
Even though Lindsay is far ahead of us when it comes to getting features made, she's looking for that next level and the reason she listens to MMIH Podcast is because she's looking for answers on how to step up her game.
Vice versa, we look to Lindsay with admiration so we ask for some advice. As a listener for 98 episodes, what does she think we should be doing?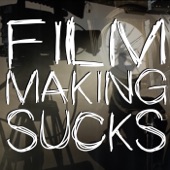 "Your professional lives are kind of confusing your artistic lives and you have to not hold your artistic endeavors to the same standards. And just get it done."
Lindsay encourages us to let go of some control and let our films have their own life. She tells us to take the leap and trust in our abilities to make it happen.
Need more inspiration? Check out Lindsay's podcast Filmmaking Sucks (but we love it anyways)
Jeffrey Palmer
The next listener dial-in is from Jeffrey Palmer (aka @JBPixel) a filmmaker who currently lives in Boston and is going to Grad School. Check out Jeff's film Split Costs on Jeff's Vimeo Page and keep a look out for his next film "Nesting Dolls," his thesis film for the Boston University Master's Program.
Jeff has been listening to us since episode 13 and we will always remember him as a very active member of the MMIH community. We talk to Jeff about his life as a filmmaker, film school and moving to LA before asking ourselves "why do we keep doing this?"
First we start with a discussion about shooting indie films in the 90s and the how the changing pace of technology put equipment into the hands of filmmakers but also made finishing films a moving target.
Then we talk about film school, both the good and bad. Alrik and Timothy share their coming up stories after graduating college.
Why doesn't Jeff just quit? What keeps him going?
John Muth
And last but not least is John Muth (aka @muthmedia) who's been listening since episode 25 or so. John currently works in a college library in Western Illinois. Here's a link to John's Vimeo Page.
John spends his weeks and nights writing scripts and making movies. He tells us about his Kickstarter project and how that led to a comic book he's currently working on.
Then we talk about giving and receiving feedback. John gave feedback on Alrik's script and we discuss how that went. What is it like to give feedback and what is it like to receive feedback?
Now for the fun part, if you need feedback on your script, John is offering to read it. Send him an email:
muthmedia@gmail.com
And finally, the best part: John shares his insights on us and the podcast. What are we doing right? What can we do better? And what does he hope to see from us in the future?
Final Thoughts
Wow! Two years. It's hard to believe. We wrap out this episode with a few final thoughts about the podcast, where we've been and where's we'd like to go with it. What did you think of this episode? Tell us by contacting us below.
Contact Us
You can find us on Twitter @timothyplain, @alrikb or @mmihpodcast! And on Facebook
Leave a comment on the episode here or send us an email
And if you dig the show, please leave a review on iTunes or Stitcher