Napoleon Dynamite premiered at Sundance in 2004. It was Jared Hess' first film and the $400,000 indie went on to gross $46.1 Million in the box office and launch Jared's career. Since then, Jared has gone on to direct feature films, television and commercials. He is currently writing animated films for Nickelodeon and Laika. Jared has the kind of success we all dream of, but is it all it's cracked up to be? For the first time in Making Movies is HARD! history we talk to a filmmaker that's achieved the "filmmaker's dream" and find out if the dream is something we should aspire to, or if it's just a fantasy.
Listen now or visit iTunes to download it to your device.
__________________
in 2017, Sundance received 13,782 submissions. 4,068 of those were feature films. With just 113 features being selected, the math shows that we have less than a 3% chance of being accepted into Sundance with our feature films. Yet, despite the odds, we never give up on the chance that we might win the festival and be whisked off by Hollywood to make our filmmaking dreams come true.
Since the beginning of our podcast, we've talked about this dream and why it's unrealistic Because for most of us this will never happen. But the dream exists because of filmmakers like Jared Hess. He made Napoleon Dynamite for $400k with independent financing and it premiered at Sundance in 2004. The film was then picked up by Fox Searchlight and went on to make $46 Million at the box office and become a cultural phenomenon.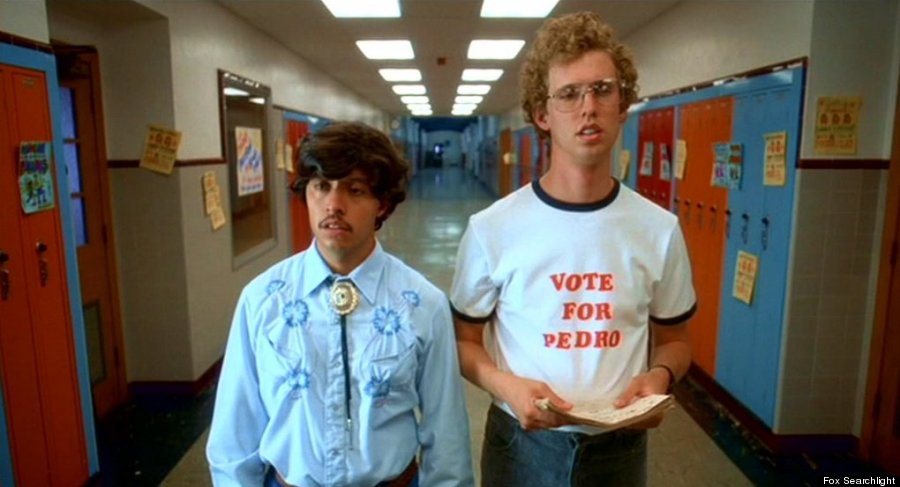 From the outside, the success of Napoleon Dynamite is a dream come true. It made a ton of money, it launched Jared's career and he lived happily ever after. Right? In this episode we talk to Jared about the experience of making Napoleon Dynamite and achieving the huge success with his first film. We then fast forward to what his life looks like now. Did the struggle end, or is Jared struggling just as much as we are?
Here's the show outline for this week.
MAKING NAPOLEON DYNAMITE
What was your dream when making Napoleon Dynamite? Did all those dreams come true?
How did Napoleon Dynamite get made?
Where did you get funding?
Jared Hess' talks about his short film "Peluca" which premiered at Slamdance and secured funding for his first feature.
Did Jared see the success of Napoleon Dynamite coming?

Jared tells us the story of making into Sundance with a rough cut, seeing the film with an audience for the first time and how it was picked up for distribution.
A SUSTAINABLE CAREER AS A DIRECTOR
If we dissect the dream, it's really about finding a sustainable way to keep making films. Jared seems to have found that, consistently making films for the past 12 years. We flash forward to now and ask questions about Jared's life now.
What does your life as a filmmaker look like right now?
Jared tells us about his life now:

He has a big family and that's a bulk of his life, living his life in Salt Lake City and enjoying time with them.
Last year he produced and directed a time travel comedy for FOX called Making History. Spent most of last year in television.
And he and his wife wrote two animated features, one of them for NickToons. And the other (an original western film) for Leica,

He also directs commercials. Does Jared need commercials to pay the bills or can he survive on film and television alone?
His most recent film is Masterminds with Zach Galafanakis and Kristen Wiig. We ask how that movie came about and how he became attached as a director.
What's the difference between making a film independently vs with a studio?

Creatively Jared says making an indie is a whole lot easier. But with an independent investors you don't have a guaranteed way to get their money back. You can't promise distribution.

What's the biggest struggle Jared has in getting a movie made?
What factors into a filmmakers success? Is it luck, timing or just pure talent?
Why did the dream happen to Jared but not to Alrik and Timothy?
Does Jared think that you need a success like Napoleon Dynamite to be able to keep making movies?
What is the key to finding a sustaining career? Here's a hint: just keep going.
THE STRUGGLE
This is Making Movies is HARD! so of course we're going to ask about the struggle.
After 12- years of being a professional filmmaker do you still love it or has it just become a job now?
Is your filmmaking lifestyle sustainable or are you afraid it might end at any moment?
We talk about the director's dilemma of a film never turning out exactly as you imagined it and dealing with the disappointments that come from being a filmmaker.
Jared's final piece of advice: write something within your means so you can shoot it without asking for permission. He talks about how the Coen Brothers got their first movie made. You can read more about the Coen Brothers' story in My First Movie: Twenty Celebrated Directors Talk about Their First Film
Contact Us
Thanks for listening and a huge thanks to Jared for being on the show!
We want to hear from you. Tell us what you think. Leave a comment on the episode here or send us an email
Or find us on Twitter @timothyplain, @alrikb or @mmihpodcast! And on Facebook
And if you dig the show, please leave a review on iTunes or Stitcher